Variable Frequency Drive Starter Type LV-SVFD & VFD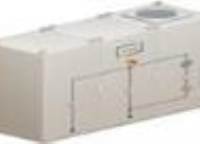 The LV-VFD is a heavy duty VFD for continuous operation and designed as LV-SVFD for short time starting operation.

Drive starter applications:
Starting of standard asynchronous and synchronous motors.
Retrofit to any existing induction- and wound rotor motor.

The VFD guarantee smooth continuous speed control and step-less acceleration without any mechanical shock to the motor and the load (if used as SVFD drive starter until full speed and the by-pass is closed).
Rated voltage

1000

V

Input voltage up to

690

V

Starting voltage range

0-690

V

Rated starting time

5-90

sec

Rated starting current up to

3000

A

Rated by-pass current up to

5000

A

Rated starting power up to

3500

kVA

full load

Motor starting up to

3000

kVA

full load

Operating frequency

0-65

Hz

Output frequency resolution

0,01

Hz

Control

Totally digital with signal processor,
PLC and 5" color HMI

Control mode

V/F or vector control, open & closed loop with encorder

Cooling method

NA / FA

air cooled

Heat dissipation sample

< 0,15

Wh

by-pass closed (without stand still heater)

Addtional heat dissipation sample

0,1-1,04

kWh

Enclosure protection class

IP 42

acc to IEC 61800

Steel sheet panel

partly galvanized

Painting of doors

RAL 7035
(light grey)

powder coated

Altitude above sea level

≤ 1000


m

Ambient requirements

Indoor, normal air, refer to 4.2.6.2.2 of IEC 61800-5-1 pollution degree 2

Rated ambient temperature

40

Ambient temperature

0 ~ + 55
-40 ~ + 70

de-rated operating
storage

Relative humility

≤ 95

%

without condensation

Backside access

Not required

Designed under consideration of

IEC 61800-2