MV-Mega Starter Type MAE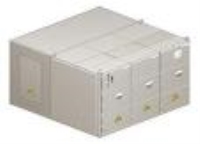 Ultimate power with sufficient reserves tailor-made for your application. The mega starter starts the biggest motors and drives utterly reliably and safely. The switching devices are installed in a MV switchboard consisting of 3 panels. The autotrans and housing are delivered separately and mounted laterally behind the swithboard at the destination.
All connections between MS switchboard and transformer are prepared in Mocotech factory and are easy to mount at the customer's site. The customer only has to provide cables for control and feeder as well as for the motor connection.
Rated voltage

kV

7,2

12

17,5

Rated current

A

...1600(2)

...1600(2)

...1600(2)

Rated short time current

kA

...40(2)

...40(2)

...40(2)

Rated power frequency withstand voltage

kV

20

28

38

Rated lightning withstand voltage

kV

60

75

95

Operating frequency

Hz

45 - 65

Protection Class

IP 3X(2)

IP 23(2)

Site altitude

m

...1000(2)

Height

mm

2250(1)

2250(1)

2250(1)

Depth basic version

mm

2500(1)

2500(1)

2500(1)

Width basic version

mm

2500(1)

2500(1)

2500(1)

Weight

kg

5000(1)

5000(1)

5000(1)
Explanations: (1) Average data (project related), (2) Higher / more on request